Upgrade A Storage Bench
The secret to an organized home is never believing you have enough storage. Here, two storage benches serve an even greater purpose with the addition of coat and bag hooks, and a ledge shelf up top for art.
Get the tutorial at The Mombot.
Turn Bookshelves Into Lockers
The trick here: Take a few of the shelves out of these narrow storage pieces to create space for your kiddos to hang their backpack and coats on hooks, while tucking their shoes underneath.
Get the tutorial at Polka Dot Chair.
Use Half A Console Table
Instead of trying to fit four different table legs into your tiny entry, use this table that takes up half of the space — but has plenty of room for the important things like your keys and mail.
Get the tutorial at Hey, Let's Make Stuff.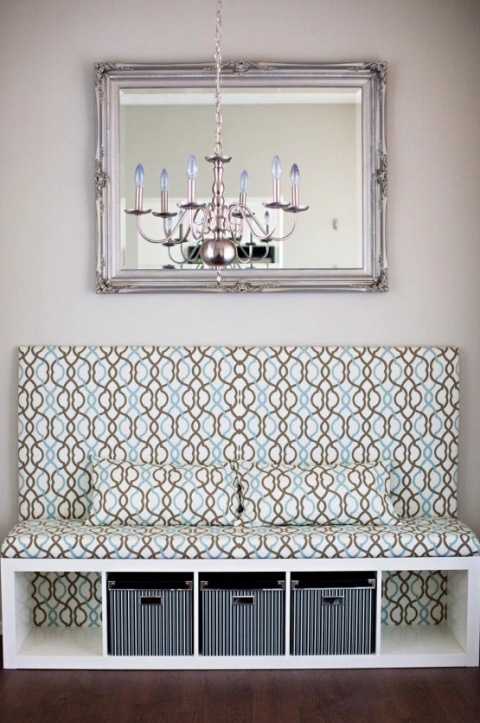 Flip A Shelf On Its Side
We all just want a convenient place to sit down and tie our shoes. Use one of IKEA's bookshelves as the base of your bench so you also gain storage cubbies.
Get the tutorial at Melodrama.
Use A Rail Instead of A Rack
Forget the giant coat rack that always topples over. This horizontal option takes up zero floor space, but offers the same amount of storage. Oh, and did we mention the basket is the perfect spot to drop your keys, so you're never hunting around the house for them?
See more at Cup of Jo.
Keep Track of Your Mail
Three magazine organizers attach to the bottom of a floating shelf to provide spots for every person in the family to have a personalized nook for important papers.
Get the tutorial at Instructables.
Choose Hangers That Double As Art
The bright colors of these dot wall hangers are super playful, so your entryway is functional but also fun. We have a hunch your kids will seriously love them.
See more at The IKEA Blog.
Use Multiple Pieces From The Same Line
IKEA's super popular Hemnes line features a classic style, allowing each individual piece to come together beautifully in an entryway. Here, a bookcase, TV unit, and wall bridging shelf sync up to create a custom built-in unit.
Get the tutorial at Golden Boys & Me.
Hang Coats on A Picture Ledges
This skinny shelf offers enough space for nine (!) hooks, so you'll never find anyone's jacket on the floor. Plus, the ledge on top provides a nook for keys, mail or even art.
See more at IKEA Share Space.
Squeeze Boxes Onto Walls
Wall-mounted boxes offer storage that's covered up (open shelving is just too much pressure) but are still narrow enough to not block off the walkway.
See more at Nordic Bliss.
Use A Spice Rack
The space that usually holds your coriander is big enough for a few essentials (like sunglasses) while the new addition of five hooks holds keys.
Get the tutorial at IKEA Hackers.
Use A Headboard For Storage
This clever upcycle magically creates entry storage where there once was none. Tucked into a corner, it offers spots for hanging coats and purses, while a box (hacked out of shelving) hides clutter.
Get the tutorial at IKEA Hackers.