Compare college to a rollercoaster and you get a pretty good idea of what to expect in those four-plus years. One night you'll have the time of your life without a care in the world, and the next you'll spend crying into leftover Chinese takeout at 2 a.m. with three assignments left to do before your 9 a.m. It often feels difficult to find a middle ground, or even to keep yourself afloat. But the ability to balance the fun with the endless assignments will get you far, both in college and in your future career. Prepare to find time to relax with that work life balance.
CHECK OUT THESE 15 TIPS TO FIND ZEN IN YOUR WORK LIFE BALANCE.
1. BREATHE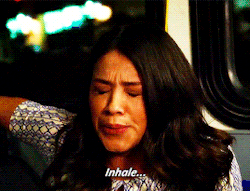 Feeling stressed or overwhelmed? Take a deep breath. The more frustrated you grow, the less efficiently you will work. Step back for a moment to refocus before you continue with your work. A quick walk, shower or snack will give your brain, and your nerves, some time to relax, which will help you to work more effectively when you start up again.